Licensing Executives Society 2013 Annual Meeting: A Recap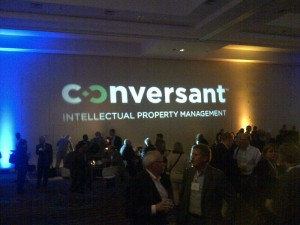 Today's post is from David Fraser, Manager, Patent Acquisitions, Conversant.
The LES (Licensing Executives Society) held its annual meeting in Philadelphia last week.  The annual meeting brings together approximately 1000 licensing professionals for the premiere licensing conference in North America.  Participants are from high tech, pharmaceutical,  technology transfer and other industries.
The conference kicked off on Sunday night with a reception sponsored by Conversant IP.  The event was extremely well attended and gave us the chance to introduce our new name and branding to licensing professionals.
The conference lasted three days with plenary addresses each morning, workshops on a variety of topics after lunch, and networking events each evening.  The workshops typically take the form of a panel discussion of experts discussing a topic of interest. Lots of interesting ideas and innovations were shared.
The keynote speaker to kick off the conference was Richard Marsh, General Counsel of Myriad Genetics who spoke about the genetics business and the recent United States Supreme Court ruling on the patenting of human genes.  Tuesday morning featured a panel discussing NPEs and patent licensing and featured speakers from a variety of practicing and non-practicing entities.  The topic has been thoroughly discussed in the press the last few years but several of the speakers emphasized the issue of the cost and uncertainty of litigation as well as anecdotal evidence that the fear of patent litigation from NPEs is having a chilling effect on innovation from small startups.  Since the patent system exists to promote innovation this is indeed a concern.  Other sessions dealt with RAND royalty rates, the top court decisions of the past year (an annual favorite), and patent valuation.
One of the key highlights of attending the LES Annual meeting are the new contacts you make outside your immediate field in a variety of licensing fields such as university technology transfer, health sciences, and the various service companies providing information on royalty rates and financial services.
This year's meeting lived up to expectations and was a great event to introduce our new name and brand.  Feedback was uniformly positive and people were genuinely interested in hearing the Conversant story.
Next year's meeting is in San Francisco, and I look forward to attending October 5th to 8th, 2014.