The growing importance of IP in economic transactions – a two-day overview
2014 IP Investments & Markets town hall meeting was held on June 17-18 in Chicago, Illinois. The conference was hosted by the non-profit Center for Applied Innovation, with Ocean Tomo LLC as the presenting sponsor. TechNexus, a venture collaborative located on the 12th floor of the Opera House Building, was the venue provider.
With attendance restricted to about 100 delegates, the conference was divided into three sections: Early Stage/Venture Investment; a "Town Hall" Meeting on IP markets; and IP investments and debt.
The organizers invited speakers from across the IP industry value chain. The diagram created below groups the corporate logos of the keynote speakers and panel participants in the meeting under five value-chain headings: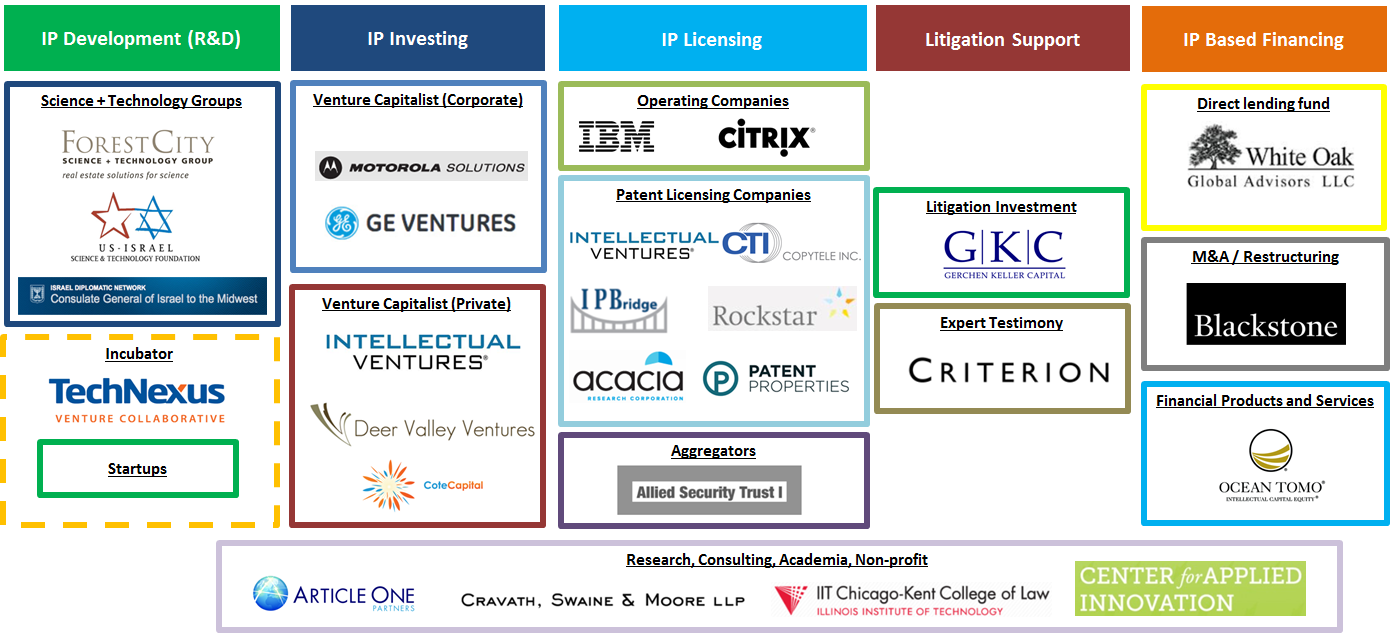 During the townhall meeting, the keynote session speakers and panels participants – primarily executives and CEOs from different segments of the IP industry – often described the current state of the IP industry as "heavily litigious," "inefficient," "opaque," "in turmoil," and "undermanaged." In contrast to these negative adjectives, the positive words used were "untapped" and "opportunities."
After participating in the two-day town hall meeting, it was very clear that the IP industry is at a crossroads. Due to the challenges faced with valuing patents, difficulties are experienced by stakeholders across the IP value chain. Patent monetization, more often than not, goes through the courts, costing millions of dollars and taking several years. Companies that own high-quality patents are faced with the underutilization of their IP assets since it is hard to leverage their patents to optimize their financing costs.
In a keynote speech, Marshall Phelps, CEO of Article One Partners and former head of IP at IBM and Microsoft, advocated four solutions to the issues facing the industry:
Focus relentlessly on patent quality
Fix the US Congress' recapture of fees that are coming from the USPTO
Fix our "industrial age" accounting systems to better capture IP assets
We ourselves have to change – stop demeaning the efforts of the other companies in the industry. Patents and IP have to again ally with words such as "invention" and "innovation" instead of "litigation."
Implementing any of these four recommendations would certainly help industry take a big stride in the right direction. At the same time, improvements of this magnitude will certainly require extensive amounts of time, money and collaboration by stakeholders across the industry.
Since joining the IP industry almost eight years ago, I have been blessed with working with many talented individuals with exceptional abilities. Let's hope the talents in the industry will all work together so that I can update everybody on all the positive progress the industry has made after next year's town hall meeting.