A New Vision for Patent Prosecution: Optimizing the Value of Intellectual Assets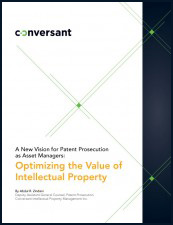 By Abdul R. Zindani
Deputy Assistant General Counsel, Patent Prosecution
Conversant Intellectual Property Management Inc.
Executive Summary
Too often, the Patent Prosecution department in many companies is seen primarily as a quiet backroom function. Prosecution is necessary for filing and administering patents, but nonetheless it's a cost-center—with a budget that's a candidate for cutbacks in tough times.
At Conversant, we're in the business of intellectual property asset management, and we have a completely different view of Prosecution. We've transformed Patent Prosecution into a dynamic corporate team charged with implementing a Value Growth Strategy for our intellectual property assets. Our Patent Prosecution group successfully, substantially, and regularly increases the monetary value of our own patent portfolio, and the patents and applications we manage for our partners. We think of it as "Patent Prosecution for 21st century information economy."
"Patent prosecution" describes the interaction between inventors and their representative—a patent agent or a patent attorney—with a government patent office, with regard to an application for a patent and the granting of a patent. Broadly, patent prosecution can be split into pre-grant prosecution, which involves negotiation with a patent office for the grant of a patent, and post-grant prosecution, which involves issues such as post-grant amendment and opposition from third-parties.